Respiratory Compromise
and PRODIGY
A MEDTRONIC-SPONSORED STUDY
Program Details:
The postoperative ward is considered an ideal nursing environment for stable patients transitioning out of the hospital. However, most acute cardiorespiratory compromise events occur in hospitalized patients on the general care ward and are associated with poor outcomes. Current monitoring practices on the hospital ward mandate intermittent vital signs checks. Subtle changes in vital signs often occur at least 8-12 hours prior to an acute event, and continuous monitoring of vital signs would allow for effective therapeutic interventions and potentially avoid a 'code blue' event.

This talk will explore the vital need for artificial intelligence and continuous monitoring-based platforms as the backbone of vital signs waveform data analysis and a mechanism to cleanse noise from signals of true harm. The incorporation of natural language processing to pick up vital information from clinical notes and laboratory and imaging studies will further empower this tool and allow for a safer recovery environment for our patients on the general care floor.
ABOUT THE PRESENTER
Sabry Ayad, MD MBA FASA is a Professor of anesthesiology at Cleveland Clinic Lerner College of Medicine of Case Western Reserve University and the Ohio University. Dr. Ayad is board-certified and fellowship-trained in Anesthesiology. He has many clinical interests in anesthesia, patient outcomes, and perioperative care. He is also a part of the Anesthesiology Outcomes Research Department. His research interest is focused on the study of perioperative care, enhanced recoveryafter surgery, PONV, pain management, and he has been the principal investigator of many national and international research study projects and trials investigating these topics. Dr. Ayad serves as President of the Cleveland Society of Anesthesiologists, is a member and Fellow of the American Society of Anesthesiologists, and currently serves on their ASA Abstract Review Subcommittee on Perioperative Medicine. He is also a member of the American Society of Regional Anesthesia and Pain Medicine, and the International Anesthesia Research Society. Dr. Ayad has received numerous honors and awards, including being named Fairview Hospital Cleveland Clinic Physician of the Year in 2016, and Safety Champion by the Cleveland Clinic Quality Institute. A frequently invited lecturer at national and international conferences, Dr. Ayad has authored many scientific articles and has many research publications to his credit. He is also a National Institutes of Health (NIH) awards recipient. He received his Master of Business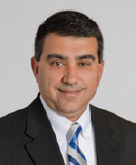 Sunday, December 15
11:30 a.m. – 12:45 p.m.
Astor Ballroom, 7TH Floor
This program is not associated with or part of the 73rd PostGraduate Assembly in Anesthesiology. Funds for this program have been provided by an unrestricted grant from Medtronic.